Ever thought to get your class to play hot potato, but with a microphone? It doesn't sound possible but it is.  Throwable microphones have become a new fun way to gain students' attention while being entertaining and a useful teaching tool.
Imagine the first day of school. The students are all chatty but some are not so talkative. There may be some who have some anxiety just being there. Some classes ask students to talk about their summer or Christmas vacation. Being in front of a classroom of your peers be it PreK, 4th, or a senior in high school,can get students to clam up.  Throwable microphones have helped break the ice in class, build up students' confidence, and it keeps the attention on the speaker without having to talk over student chatter. The teacher can hear the soft-spoken student speaking without any issues.
Microphones in classrooms date back decades. The need stemmed from teachers who had trouble talking over student chatter, or due to a student who was unable to hear what the teacher was saying.  Microphones in the classroom help ensure that the students are engaged in the teaching, able to hear, and save a teacher's voice. A new approach, that has been recently introduced, is the Throwable microphone.  Not only does this padded cube or ball keep you rolling with laughter as you chuck it across a classroom, but it plays as a great confidence builder in some classrooms.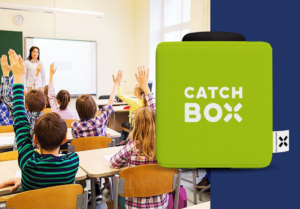 Catchbox is the first throwable microphone made. It's a padded cube that holds your lavalier microphone and beltpack transmitter safely. You can chuck the microphone to your students and not worry about feedback from it zooming in the air or hearing a loud thud when it hits the ground (not everyone has good hand-eye coordination).  There is an auto-mute (noiseless throwing) when it becomes airborne (sorry no signature mic-drop booms with this system). The
system is currently used in many K-12, higher-ed and many more places. Teachers
are raving over the interest from their students, the increase in
participation, and confidence. Check out the reviews here: https://catchbox.com/community/
Not like it could be any cooler, but you can customize the outside of the cube to show off your school logo, inspirational quotes, and whatever else you can think of to create a unique microphone that represents your school.

So — anyone want to play hot potato with Catchbox?