Sign up for your Free Online Demo!
Learn about the latest Interactive Flat Panel technology, online, anytime and from anywhere on your computer. See below for details.
Interactive displays have been around for a few years, mainly used in educational facilities. As the technology improves and more features and functions are added, interactive displays are being utilized more and more in companies to improve efficiency across the workforce globally and reduce travel costs. A team in Mumbai, India can collaborate live with a team in Houston, Texas. This goes beyond just typical video conferencing. Imagine engineers sitting in a meeting and collaborating on product designs. Designers and customers make drawing changes sharing not only voice and video through teleconferencing, but also data and annotations from the meeting. Both teams in separate locations are making and seeing the changes, commenting on those changes, and saving them to a shared location for later use. Imagine being able to record that session and play it back at any time for training. Today's interactive technologies have changed, with features that can drive efficiency, build comradery across global teams, and improve training.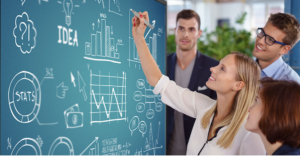 SMART Board is one of the most well-known names in interactive whiteboards, so much so that any interactive whiteboard is commonly referred to as a "smart board". SMART is just a brand name, like Kleenex is for facial tissues, and most of us think of the white board with the short throw projector attached that are in a lot of our kids' schools. SMART Boards were designed and have made big headway in schools because of their interactive software and lesson plans that allow teachers to project and write on the same screen. The SMART Board is touch-sensitive so teachers and students may use finger or pen to write directly on the board. However, continued maintenance costs for bulb replacements and software licensing, have been a draw back for this technology.
However, with the improvement of touch technology on our smart phones and pads, interactive technology has also shifted from board/projector solutions to touch displays. For this article, we will focus on interactive displays, as the technology has gotten better and more cost effective over the last couple of years.
Effective Team Collaboration with Video Conferencing
Teams with individuals residing in different locations present many challenges for companies today including slow or nonexistent communications. However, sending team members, partners, colleagues, and customers for face-to-face meetings is not cost effective. In fact, Travel reduction is the easiest expense to calculate when determining ROI of a video conferencing investment.
Most teams interact using email, instant messaging, workflow applications or phones. Given that 80% of communications consists of non-verbal visual cues, these types of communications are not conducive to productive, collaborative teams. When team members can see and hear each other clearly, decisions are made faster, projects completed sooner, and productivity increased across the organization. Video conferencing is a great solution to reduce cost and get your team working together more effectively. Many of these interactive displays offer high definition cameras and microphone array with echo cancellation and noise reduction that provides a clear picture and sound for team members to communicate no matter where they are located.
Show, Don't Tell with Annotation
Turn each meeting into a collaboration session. Instead of a one-way presentation with PowerPoint, meeting participants can engage with the information being discuss and make changes to the documents with the input of all team members. Members can iterate in realtime and changes can be easily filed, printed and shared with everyone. The annotation session can even be recorded and saved for future playback. Some interactive display solutions feature a handwriting recognition function for converting selected onscreen handwriting into standard text. This convenient function allows you to utilize onscreen content to make neat and legible minutes of your meetings or trainings. Recognizing up to 6, 10, or 32 points of contact, the new line of interactive displays allow multiple people to write on the screen at the same time using touch pens or their fingers. Participants can take an active part in meetings, brainstorming sessions, classroom interactions, and more. Discussions and presentations become platforms for effective communication in the exchanges of ideas.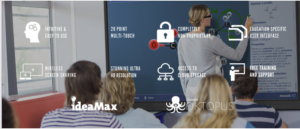 Size Matters
Interactive solutions now come in virtually any size. However, the most common are between 46" to 98" single display with HD or 4K capability. If you want bigger, you can create your own custom size video wall array to meet all your business or school needs.
Software is Everything
When choosing an interactive solution, keep in mind the software that will be utilized for the solution. There are two important things to note about software: cost and usability. In the past, the cost of the initial solution plus annual software licensing fees was prohibitive for a lot of organizations. Today, the cost of interactive technology has decreased and many interactive solutions come with free licensing for the software. Others, like SMART Board, require you to purchase annual licensing for multiple users. One way to get around licensing fees for multiple users is to install the software on a Mac or PC and use that one computer with the interactive
display. Another complaint in the past with interactive technology was that the interactive solution was difficult for users. Inevitably, an organization invested a lot of time and money implementing an interactive solution that the employees found difficult to use and then abandoned. However, as the technology has improved with the smart phones and other touch technologies, not only have users gotten more savvy with using interactive technology, but manufacturers have greatly improved the software to run interactive display solutions. It's never been easier to have interactive capability in the classrooms, conference rooms and Boardrooms.
The newly designed touch screen has raised the bar and is superior in every aspect to the last generation of product. The highly responsive, multi-touch screens allow several people to write on the same screen at the same time with pens or with their fingers. No more dead technology, when inevitably, your touch pen disappears because you still have ten fingers to write with on the display. The annotation software also allows multiple location sites to interact collaboratively across your business or school system. No more taking a picture or printing a hard copy of the results to record those meeting annotations. You can save a soft copy of the changes to a file on your PC or server or even record the session and save the audio/video on your PC or server for future playback or training.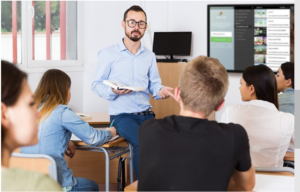 Glass Surface Protection
Most interactive display solutions have a durable protective coated film layer on the screen that works to reduce glare and reflections, and minimize fingerprints on the glass surface. Additional improvements include an expanded number of digital interface ports, an on-screen touch menu, and front facing speakers that help provide an intuitive and easy-to-use experience.
Enter for your chance to win two tickets to the Houston Livestock Show and Rodeo (concert of your choice) and a $50 gift card to complete your evening.
Sign up to register for a free online demo.NO PURCHASE NECCESSARY. Follow the link below, type FREE DEMO in the comment box.We will handle the rest.
Deadline to enter has been extended to Thursday February 27th, 2020.Winner will be contacted on February 28th, 2020.